---
After losing our Corgi of 10 years to kidney disease and grieved for a year my family decided we were ready to have another fur baby in our lives—yet of course we all disagreed on the breed. My parents decided they wanted a Frenchie, which left me outnumbered. My Dad found our baby (formally named Tess but she is now Malia) on AffordablePups. I was worried about her traveling and purchasing a pup online but after we had talked on the phone with their adoption team it put all of us at ease. Malia was at first shy when she came to us and then opened up instantly. We brought her home and she was every where exploring her new home and adapted so well. Next Monday she will be turning 2 years old. She's been such an amazing edition to our family and I'm thankful to have her everyday! Thank you AffordablePups for making this fur baby Mom very joyful again!
---
We got Joey just over a year ago, she has been the perfect addition to our family. Probably one of the sweetest dogs I have ever met and had. Affordable Pups helped us out a lot with the purchasing process and the pick up. They have a very, very clean and nice facility. In fact we even just recently purchased out second French bulldog through them and will be picking him up in a few weeks.
---
Name:
Hamilton (hammy) previously Newton
Customer:
Sierra (Johburg Gauteng)
Date: 1/3/2020
Affordable pups is a great company to purchase from. I could not be more in love with my little Hammy! He fits in perfect with our family and gets 159327 kisses a day. I would definitely recommend buying from them!
---
Name:
Bijou ( formerly Seth)
Date: 3/4/2020
I spent a lot of time researching sites and getting discouraged reading about the scams out there when trying to purchase a puppy online. I came across Affordable Pups site and read everything I could and all of the positive reviews. When I saw the picture of my French Bulldog Bijou, I knew he was the one. I contemplated the purchase all day before pressing the purchase button. Although there was a little obstacle in getting him, Bijou was mine by the end of the week. A special thanks to Mike for making that happen and for the genuine care he had in making sure my puppy was doing well before and after I received him. My family and I are very happy with our new addition and that Affordable Pups made that happen.
---
Customer:
David and Ashley Bridges (Durban)
Date: 2/3/2019
Sergio is great! Honest and great staff at Affordablepups!
---
Name:
was Gace, we named him Alfie
Date: 3/2/2019
Our family is just over-the-moon with this pint size little guy. He has such an amazingly unique personality. We could not be any happier. Thank you Affordable pups!
---
Buzz is now named Cooper . I am so in love with this little guy. He is happy, healthy and a wonderful addition to my home. At first Cooper was having a rough time transitioning into my home and Affordable Pups went above and beyond helping with the transition. They have called me every day checking on him.
---
Customer:
Nallely Martinez
Date: 4/11/2019
We absolutely love Bella
---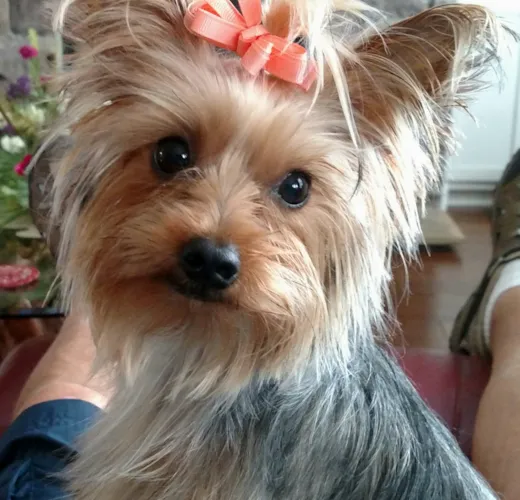 Thank you Affordable Pups.com for our Teacup Yorkie. You have been very helpful and professional from day one. You put us at ease in flying her to us and in the days and months afterwards, you were great. And we love her so much, she has given us so much joy in our lifes!! Thank You
---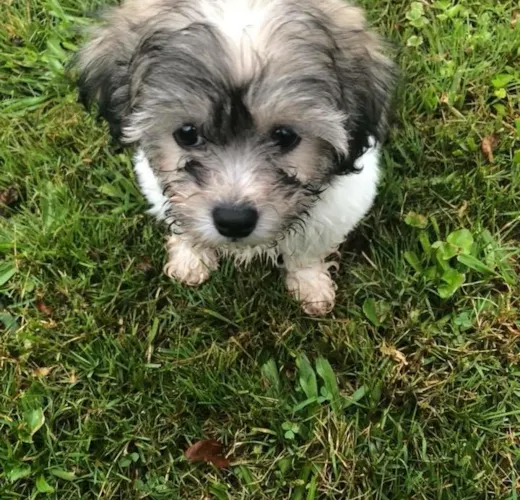 Name:
Griz (formerly know as Bruno)
Customer:
Theodore Furstnau
Date: 12/31/2018
Nothing but great things to say about Affordable pups. Their facility was nice & clean. The staff was very professional & helpful with everything about our new fur baby. Our Griz is a healthy, affectionate, & spunky little pup. Every day he makes us laugh & smile. My family & I couldn't be any happier. I've been wanting one of these teddy bear dogs for 3 years now & my only regret is not getting one sooner. If I ever purchase again Affordable pups will be my first choice!
---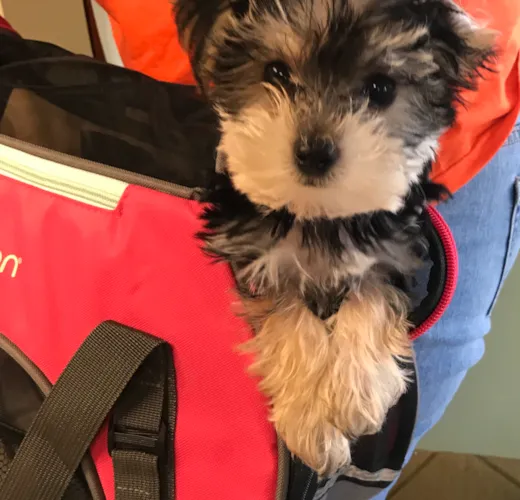 Name:
Maddie ( formerly Trini)
Date: 9/5/2018
Got her for my 50th Birthday She is perfect 8/18/18
---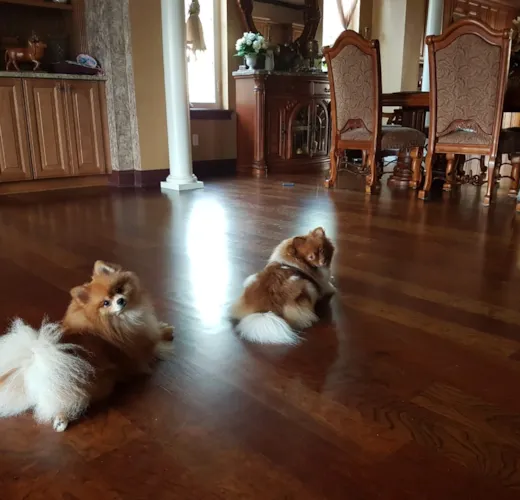 Got this 2 lovely puppies last year and now they are total 5 members including 3 new puppies from them. Love it. Thank you Affordable pups
---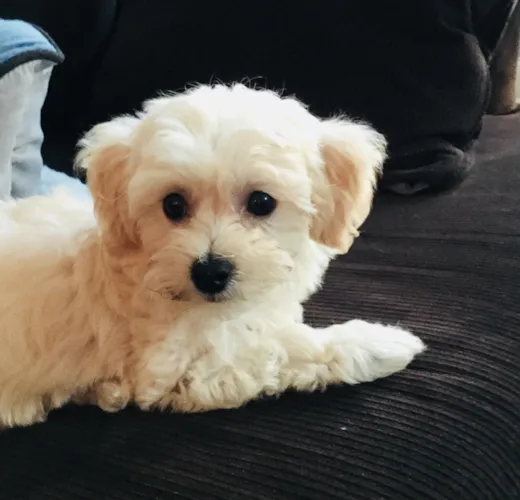 Name:
Jagger (used to be Ramsey)
Date:10/2/2018
We drove to Affordable Pups. The staff at Affordable pups made us feel comfortable with Jagger and helped us help him adjust to his new home and family. Jagger basically potty trained himself so that was also amazing. Me and my family love Our Jagger and will definitely be coming back to Affordable Pups for our next puppy!!!
---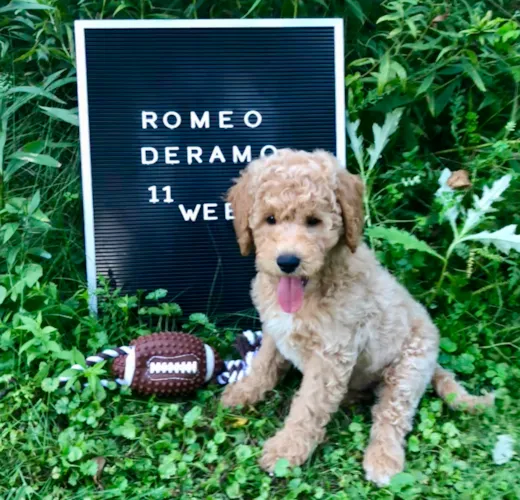 We picked up our Romeo yesterday and had an amazing experience. Our puppy is perfect, so personable, and so good. Thank you so much Affordable pup for our new family member !
---
I purchased Harley (formerly known as Brooke) on 8/22/2018. The adoption went very smoothly and to my surprise we received her at the airport one day later on 8/23. It's now been a week and Affordable Pups has kept in touch every other day to be sure that she was eating well and was she making herself at home. I couldn't be more happy with my Affordable Pups experience from beginning to end!
---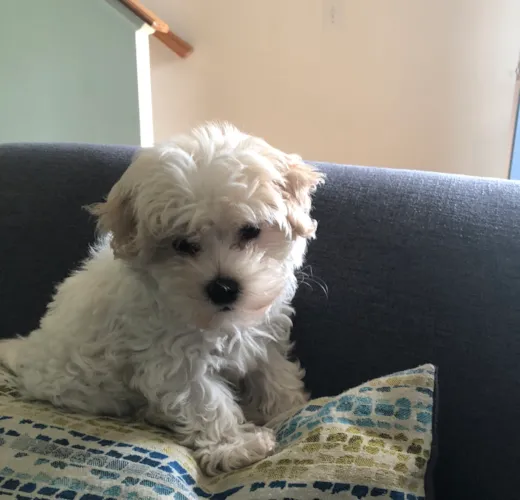 We were looking for a four legged friend to complete our family. Coming from a family that has Yorkies, I was looking for something small. I researched small breeds and came to the conclusion that a havenese pup would be perfect. I found Affordable pups durning my search and feel in love with Joyce now Hazel. She has been perfect since we brought her home. She is well socialized but likes her independence. She barely barks or whines. We are absolutely in love. We will be returning to pick out a friend for her as soon as she is potty trained!
---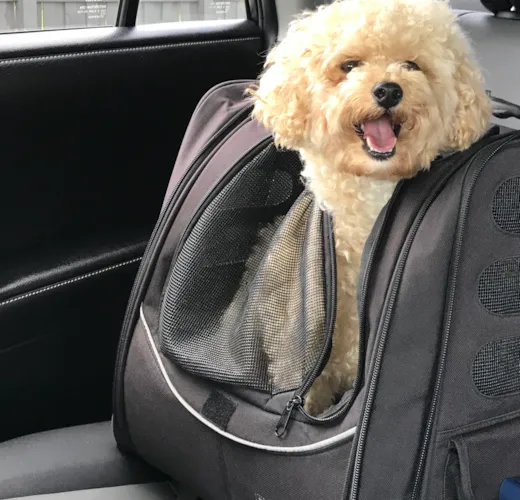 Name:
Oliver (formerly Rusty)
Date: 8/26/2018
I highly recommend Affordable Pups. Oliver became a part of my family almost 2 yrs ago. He is the most amazing dog. I could immediately tell he came from a great breeder. He was so easy to train and I am told is the most popular pup at doggie daycare. So sweet, loving and very smart! He even lets himself out of his car seat when he needs to go the bathroom! (See picture). When it is time to welcome another pup in our home, I will be purchasing from Affordable Pups!
---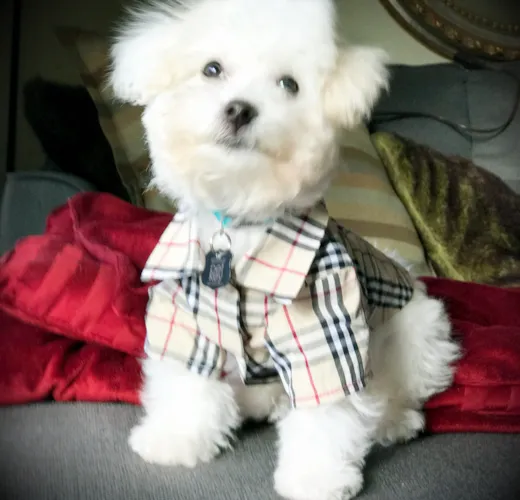 Customer:
Jacklord Paragas
Date: 8/26/2018
Getting my fur buddy from Affordable Pups is one of the decisions I've made. I Emma's hesitant to get one co I wasn't so keen about the responsibilities it requires in taking care of the pup. But the joy and love you get from them overcompensates all that. Everyone loves him and it's always a joy to come home bc I know he's always eagerly waiting to see me. It's only been 6 months since I got him but it feels like we've been together for years bc we have bonded and gotten attached with each other. Truly, they provide you with such an unconditional love.
---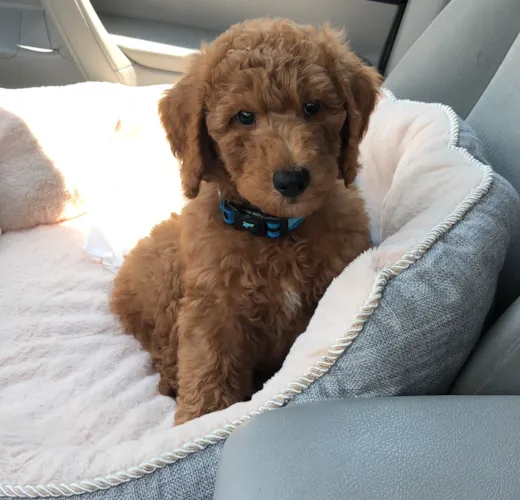 Customer:
Carolina Bescansa
Date: 8/23/2018
We are so happy with the new member of our family, Boomer is perfect ,he brought a lot of joy and love in our home. Thanks to Affordable Pups, they answered all of our questions and they are very professional, they made the transition very easy. Again thanks, Bescansa Family.
---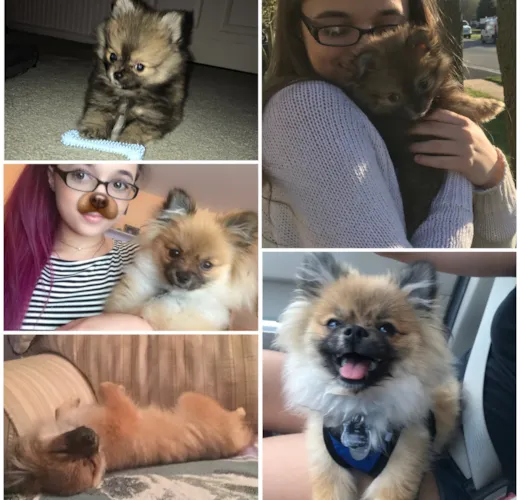 Name:
Milo (was Napoleon)
Date: 8/22/2018
Milo came into our home April 22nd weighing 1.6 pounds. as of June my boy is now 5 pounds 🙂 he's absolutely crazy and loves playing with his cat "brother" and loves to eat and go on walks and enjoys car rides. Milo loves being the center of attention. He's been a true joy to our family!
---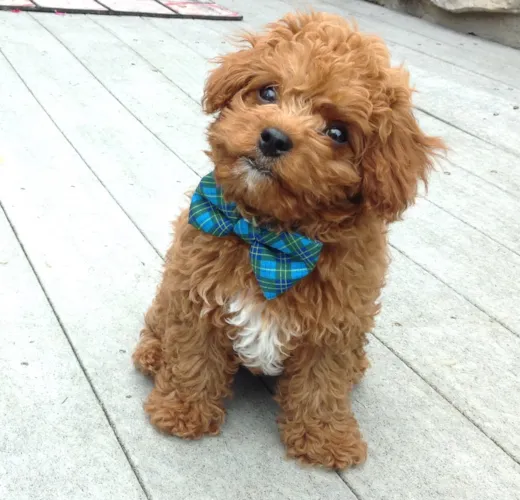 We have never owned a dog before and we were unsure. Affordable pups answered all my questions. When we picked up Toby we were all in love. He is the best puppy I could have hoped for and so smart. He brings so much joy to our days. We feel blessed!
---
Name:
Balú (formerly known as Elton)
Date: 8/16/2018
I bought Balú about three weeks ago and it has been amazing. I'm extremely grateful to Affordable Pups for their service and the amazing puppy they gave me. From the moment I bought him to picking him up in the airport to now that he is settled at home, it has just been an amazing experience!
---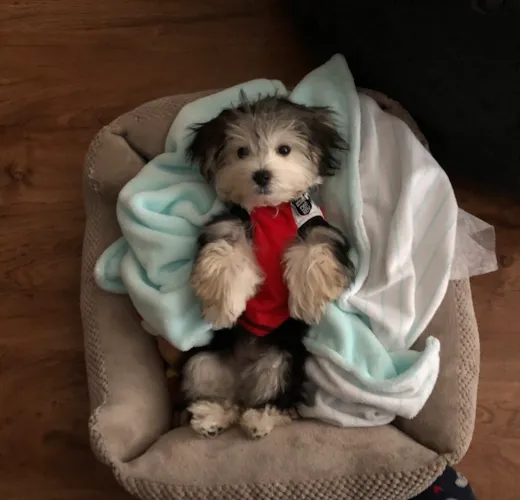 Customer:
Mica &Andrew Contreras
Date: 8/16/2018
So happy and pleased with our new puppy Michio formally known as Perry . He is so smart and sociable and he's super cute . Affordable Pups is awesome they made sure to check on our new puppy for the first week which is so awesome for a company to do . Overall our experience has been wonderful would definitely recommend for anyone thinking of adding a new family member .
---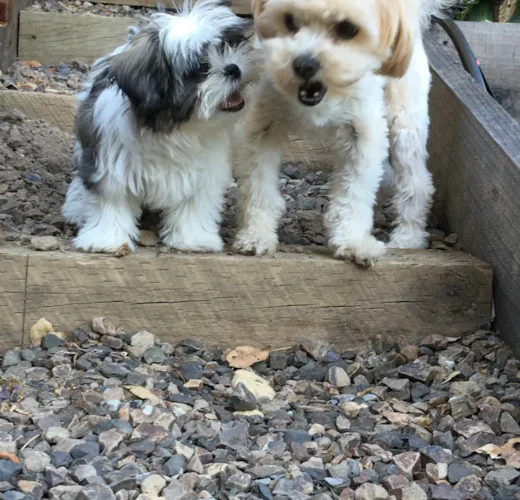 Name:
Miso (formerly called Galaxy)
Date: 8/15/2018
Miso came to live with us a couple of months ago. She blew into our lives like a breath of fresh air. Within 24 hours my other dog was smitten with her and life has been joyous ever since. Miso is bright and bossy and beautiful and we have all fallen deeply in love. Affordable Pups was very easy to deal with and I would gladly use them again and refer them to friends.
---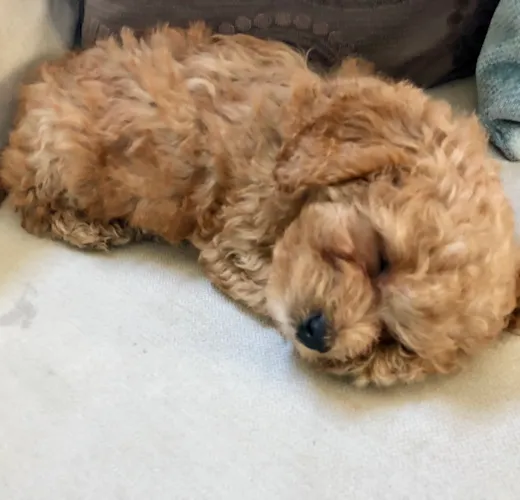 Name:
Lucky (on the site) we named her Chloe
Date: 8/15/2018
Absolutely love our baby! She is perfect! Thank you
---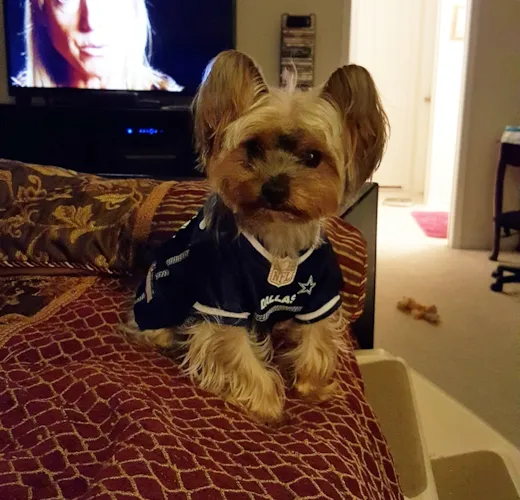 Customer:
Latosha Sweet (Cape Town)
Date: 12/26/2017
I purchased my Bentley from affordable pup in July of 2016. I purposely waited to post a review to see how Bentley would progress with his health and development over the first year. He is the most healthy little boy and super smart. I 100% recommend affordable Pups. They were extremely helpful during the first few weeks of adjustment and I can honestly say, we gained a healthy and happy new member to our family. Thank you Affordable Pups!
---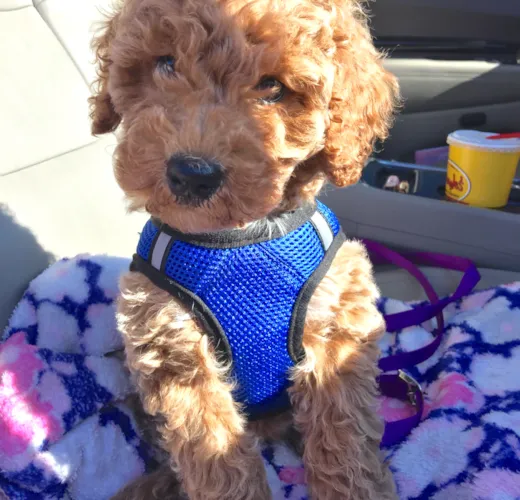 Customer:
Brody and Kelli White
Date: 12/25/2017
We highly recommend Affordable pups! They were wonderful and so helpful, as we are 1st time puppy owners. We love our Lucy pup and if we ever get another puppy we will definitely be buying from Affordable pups again! Thank you for everything.
---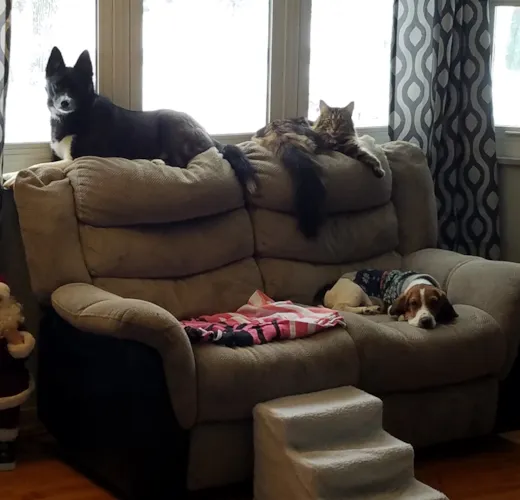 We picked up Remy 2 years ago. He's a really good tempered dog and is an amazing family dog. We recently picked up a basset hound and they love each other. Thanks again to Roger and if your looking for a pomsky, this is the place.
---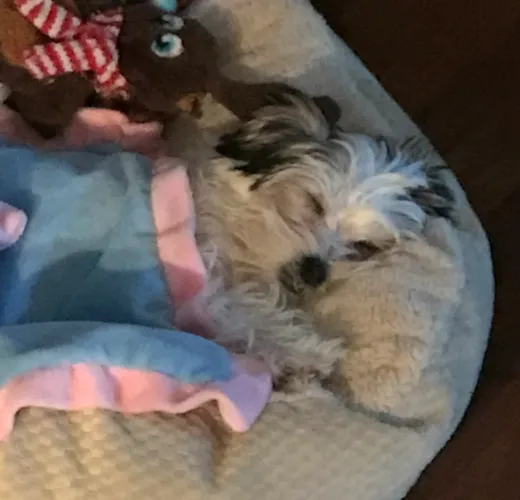 It's been about 6 weeks since Kenzie has been home with us. It took her almost 15 minutes to get start running around after we got home from the airport! She is just a ball of energy and love! She is a little bit stubborn at times, but is learning pretty quick. I don't think we could've found a more cute or healthy puppy.
---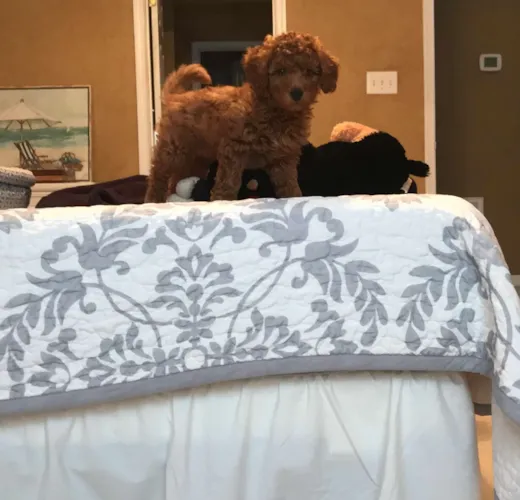 Romo is the best puppy ever! He is so smart and loves to cuddle! He is energetic, loves people and we are so happy to have him.
---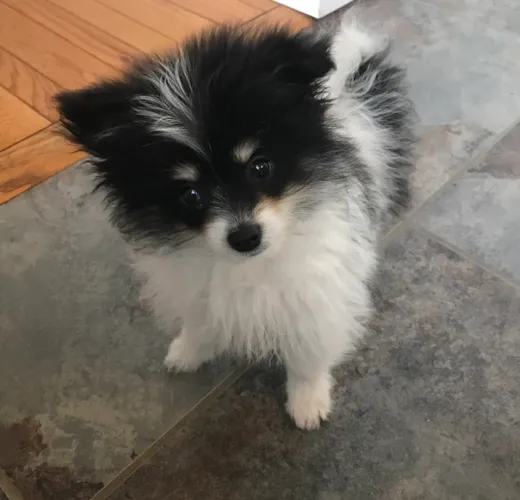 Such a wonderful dog for our family. We couldn't have been happier with the process or the puppy. Our puppy was healthy and well adjusted to kids and other animals when he arrived home. I would recommend working with this group to bring home a puppy.
---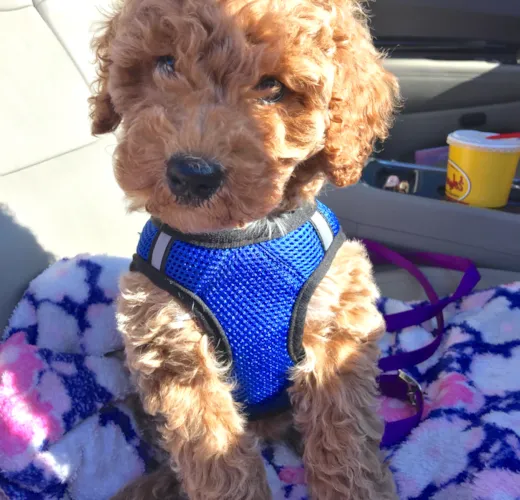 Customer:
Brody and Kelli White
Date: 12/15/2017
We had a wonderful experience with Affordable pups. They were so helpful! They take great care of their pups and I would recommend them to anyone looking for a furry addition to their family. Our mini goldendoodle has fit right into our family! We love our Lucy Lou. Thank you Affordable pups!
---
We have always loved our Golden Retrievers, but their shedding was a challenge for us. We looked into the Golden-Doodle for our new dog for this reason as well as their ease of training, loyalty, and intelligence. We picked up our new puppy and within a week he is completely crate-trained sleeping 10-12 hours a night and is totally house broken using a potty bell. He is energetic, fun-loving, obedient and so cute!!! We absolutely adore him and wish we could have another just like him. Thank you Affordable Pups!
---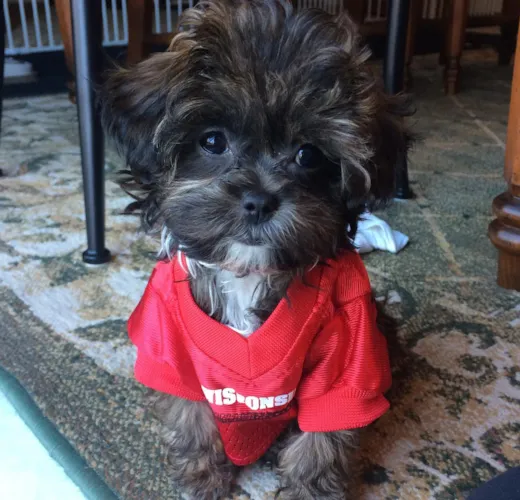 Name:
Wrigley formerly Sully
Date: 12/2/2017
Our pup was born on 11/7/16 as Sully. She is very playful and sweet. We would love to find out about her siblings! One of them was Bear, but we can't remember the other(s). Thanks to premier pups we have the perfect addition to our family!
---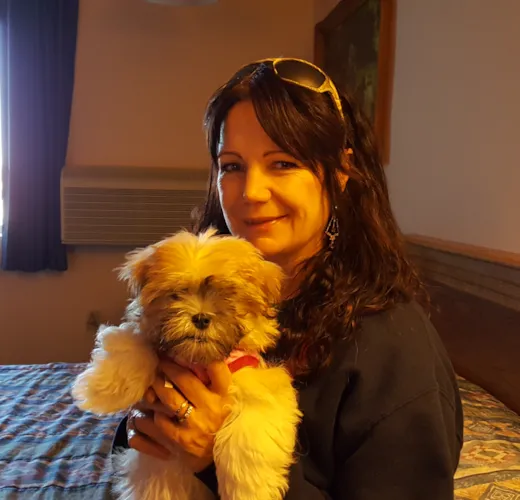 Customer:
Lori Giles (Sheridan)
Date: 11/29/2017
Just want to say what a pleasant experience we had when purchasing princess Hazel our new teddy bear and addition to our family. The staff at premier We're very professional and the whole transaction went as planned. Princess Hazel has been everything we expected and much more I would recommend anybody who is looking for a new puppy look at Affordable pups they won't leave the experience disappointed. Thanks again to your stuff for our wonderful addition to our family.
---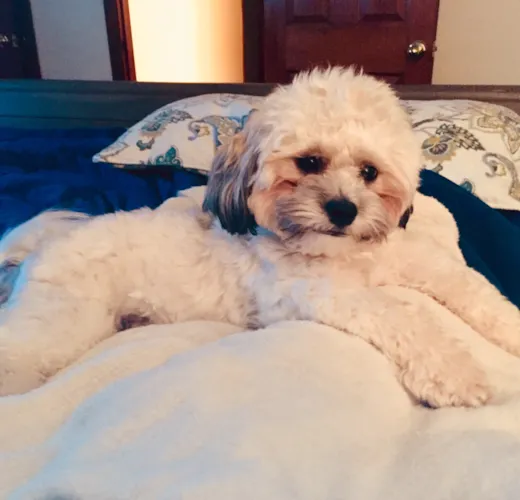 Customer:
Casey & Jessica
Date: 11/26/2017
We welcomed Barry, formerly known as Bernard, nearly a year ago in January 2017! Working with staff at Affordable Pups went smoothly and were so friendly and helpful from start to finish. They even called to check on Barry on the way home and days after! Barry has brought so much joy and happiness to our lives and we have considered adding a little sister in the upcoming future! He is well-mannered, friendly, loves chasing after sticks and leaves, along with sticking his head out the window during car rides! We love our little guy and can't imagine life without. Big thanks to Affordable Pups for Barry!
---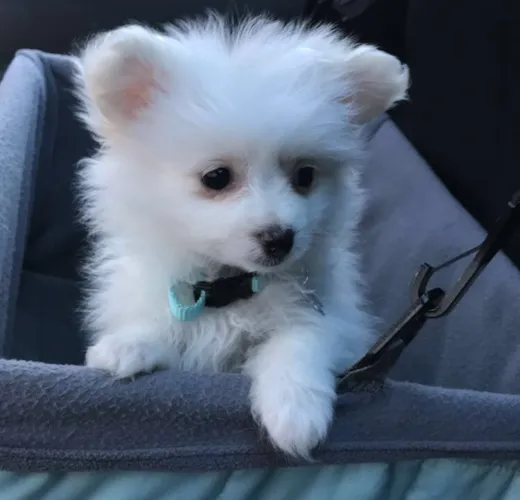 Name:
Sky (was originally Monster)
Date: 11/23/2017
Sky has only been with us a few days and he's already the heart of our little family. We love him so much. He's adjusting very well and we look forward to many more years with our new little pup!
---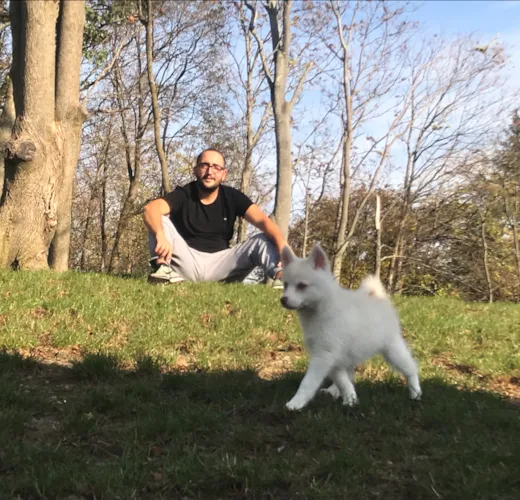 I'm fall in love so cute and best friend thanks Affordable pups (I change his name to boney from Amos)
---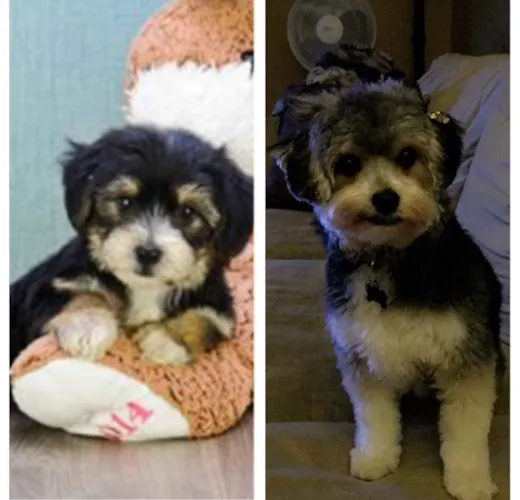 Name:
Lois (was Sasha 7/23/16)
Date: 11/21/2017
We have had Lois for a little over a year now and cannot imagine life without her. Admittedly I was uneasy about buying online and having her shipped. Affordable pups made it so easy, called several times to check on her when we first got her and seemed genuinely concerned with her well being. Lois arrived very healthy and it was apparent that she had been taken care of. She has grown to just over 8 pounds and is 100% healthy as she has been from day one. Thank you Affordable Pups! Lois sends her love and thanks too!
---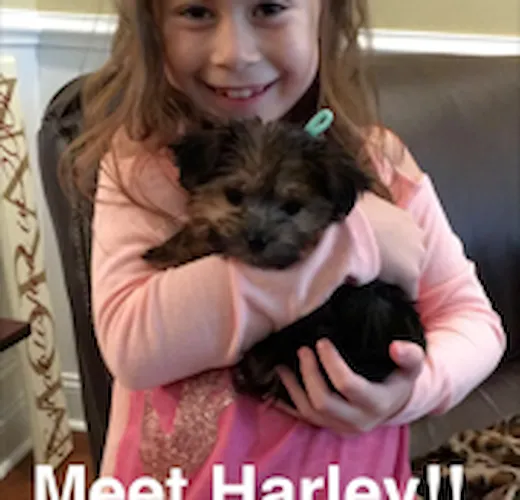 Customer:
Elizabeth Kriegel
Date: 11/14/2017
I would like to thank Affordable Pups for everything that they have done for us. Our puppy Dee (now Harley) is a great little puppy. Affordable Pups have contacted me a few times to see how Dee was doing. Dee was only 1.5 lbs when we got her on 6 November 2017 she is now 2.1 lbs. I've already taken her to my vet and was informed that she is a very healthy puppy. This is the second puppy that my family has gotten from Affordable Pups – my daughter and her family got a Tedding Bear from Affordable pups in June 2017 and he is also a very healthy puppy I want to especially thank Kacee for asking all my texts and emails. She was always professional and never seemed to mind answering all my questions. Keep up the good work Affordable Pups –
---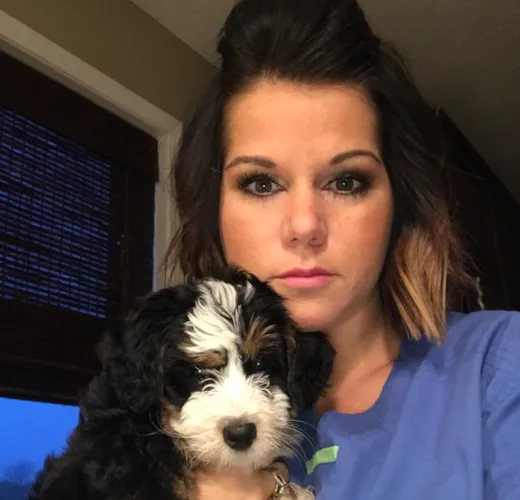 Customer:
Elizabeth Schooley
Date: 11/10/2017
I just want to take a few minutes and thank you guys for everything!! My family is in love with our new baby !! You guys were amazing to work with the customer service was amazing !! It is not hard to see how much heart and soul you put into each puppy and each sale !! The evidence is found in the quality of this pup and her disposition you can tell that the place she came from is second to none !!! I will be recommending premier pups to everyone i see and anyone that asks me about our Hilda!! Thank you to everyone at premier pups that cared about our new baby and our experience thank you for the amazing puppy pack and your thoughtfulness to call and check in on us a couple times just make sure Hilda was well and adjusting well you guys are number one !!!
---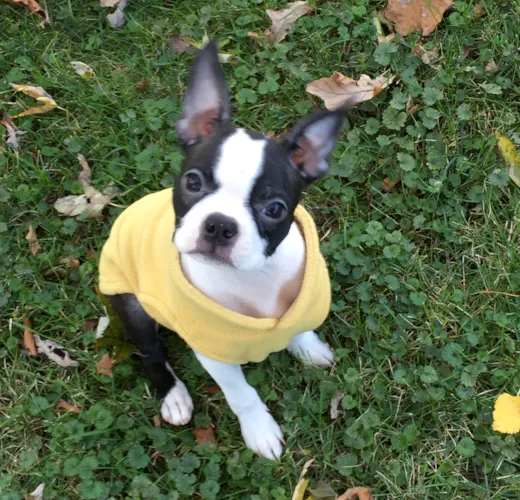 I wanted to take a moment and thank Affordable Pups for helping me find my new girl, Pearl. She is such a spunky little critter and I just love her to pieces!! I encourage anyone who is on the fence about buying a pup online to go ahead and trust Affordable Pups. The process was smooth and painless, and I felt that any questions I had would be immediately answered as they were "right there" throughout the process…..from purchase to pick-up (we drove from IN) and even in the week that followed. Again, thank you so much for making my experience wonderful! A+
---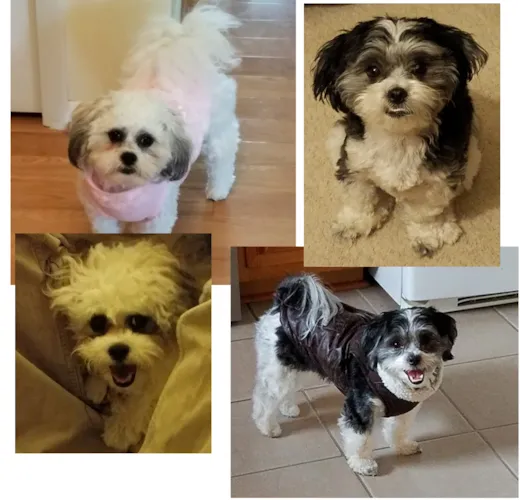 We bought Gracie and Murphy just over a year ago from Affordable Pups after losing our beloved Golden Retriever. We never had small dogs before so it would be a new experience for us. I thought I'd write to say how much we love love LOVE our dogs! They are the loves of our lives, so affectionate and funny. They have super cool personalities. They are both completely housebroken. They are about 12 lbs or so. They are very attached to us and to each other. They bring us so much happiness!
---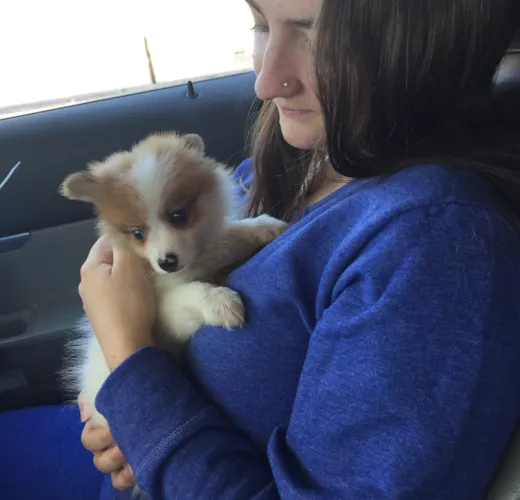 We have had Cleo for 1 week! We love her so much! She is very active and loved to play with water botttles.. Ha! My daughter sufferes from ainxiety and the dr suggest we get a small dog or cat to help her.. So, she decided (after seeing her friend with her Pomeranian) that she wanted a Pomeranian! I waited a while but, finally decided it was time.. While shopping at an Apple Store I saw a man with an adorable poodle! He told me where he got her. I couldn't wait to get home and google Affordable Pups! I was so happy to see all the great reviews! Then, I saw Lacie/ Cleo! I knew that was the one for my daughter! When I showed my daughter the picture and told her I had bought the puppy she cried. She stayed out of school to go with me to the airport to pick her up. Again, she saw Lacie/ Cleo and cried. We are so in love with this baby! Thank you!
---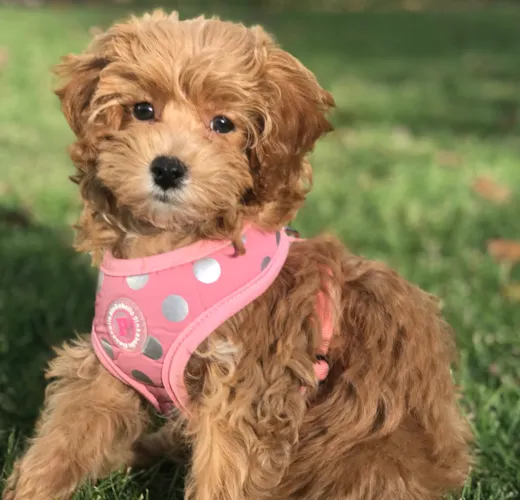 What a joy our Finley has been so far! We adore her?? She is precious, curious, playful and healthy. She is potty training well. Sleeping 6 hours at night, and adjusting well. It's been 13 years since we have had a puppy, and we were a little nervous. The instructions are great, and the experience has been easy so far. Puppy love??
---